Botox Cosmetic, an FDA-approved natural product made from botulinum toxin type A (clostridium botulinum), can be used to soften and smoothen moderate to severe frown lines between the eyebrows (the glabella) and other fine lines and wrinkles. The effects are noticeable after 24 hours and reach full effect within three days. The effects usually last from three to four months, but this can vary from patient to patient.
Many patients don't realize that Botox can help soften frown lines between the eyebrows. This prevents the formation of wrinkles by strengthening the facial muscles responsible for lifting the brow. As people age, it is natural for the brow to slowly drop, allowing excess skin to roll over the upper eyelid, giving a heavy, tired appearance to the eyes.
And though not a real substitute for Brow Lifts, Botox can improve this problem by elevating the brow back up into a more youthful position. It does this by reducing the activity of muscle contracts that pull the eyebrow down. This allows the muscles that elevate the brow to act with less resistance, thereby bringing the eyebrow up and improving the patient's facial expression.
Benefits of Botox
There are several benefits why people choose Botox injections over other beauty treatments. First, it is safe and effective. Second, it is easy to do. Third, it requires no downtime. Fourth, it costs less than other facial procedures such as laser therapy, chemical peels, microdermabrasion, facials, and dermal fillers. Finally, it lasts longer than other cosmetic treatments.
If you are considering getting Botox Cosmetic injections, here are some of the benefits of having them.
1. You'll Look Younger With Botox
One of the main advantages of having this procedure is that you will look younger. After the facial injection, your skin will look smooth and wrinkle-free. In addition, Botox for under eyes can help to reduce dark circles in addition to other benefits. Your appearance will change immediately.
2. You Won't Have Wrinkles Anymore After the Botox treatment
Another advantage of having Botox injections in the area where you want to reduce facial wrinkles is that you won't have visible wrinkles anymore because the injection reduces facial muscle activity that causes dynamic wrinkles.
Botox Before & After Pictures
* All patients are unique and individual results may vary.
Botox Ideal Candidates
Botox is an effective and safe cosmetic procedure used to reduce the appearance of forehead lines, laugh lines, glabellar lines, age lines, droopy eyelids, and eyebrows. The injection sites for Botox are typically around the forehead and eyes to create a youthful appearance by relaxing muscle contractions that cause wrinkles. In addition to reducing facial lines, Botox can be used to treat excessive sweating in the feet or hands.
Ideal candidates for Botox include people who have realistic aesthetic goals and understand the risks associated with this procedure. During your consultation appointment, it's important to discuss your medical history and skin rejuvenation goals with your plastic surgeon before deciding if Botox is right for you. Your doctor will also review your muscle movement and explain all of the possible side effects associated with botulinum toxin type A injections.
Injectable fillers can also be used as an alternative or complementary treatment to Botox in order to achieve more dramatic results. Ultimately, it's important to speak with an experienced plastic surgeon about which treatments will best help you reach your aesthetic goals while minimizing any potential risks.
CONTACT US TODAY!
call our Beverly Hills office and we will be happy to help you.
The Botox Procedure
The Botox procedure is a popular cosmetic injectable used to reduce the appearance of forehead wrinkles and other signs of aging. This non-surgical treatment works by blocking nerve signals that cause muscles to contract, which then reduces movement in the affected area and reduces wrinkles. Botox injections are administered by an experienced aesthetic expert who applies them directly into the skin after first cleaning and numbing it with a topical solution.
During the procedure, the aesthetic expert will use small amounts of Botox carefully injected into specific areas of your face. The injection sites will be determined based on your individual facial appearance, muscle activity, and desired results. In some cases, scar treatments, or other types of aesthetic treatments may be included in your treatment plan if necessary.
It's important to note that Botox injections can cause some side effects such as redness, swelling, bruising at the injection site, headache, nausea or flu-like symptoms, and sensitivity to light or sound for several hours following the procedure. It's also important to keep in mind that this treatment should only be performed on clean and healthy skin – so avoid touching or rubbing your face until all redness has subsided. Finally, always consult with an experienced plastic surgeon prior to undergoing any type of surgical procedures or cosmetic injectables as they can help you assess if you're an ideal candidate for Botox or any other aesthetic treatments.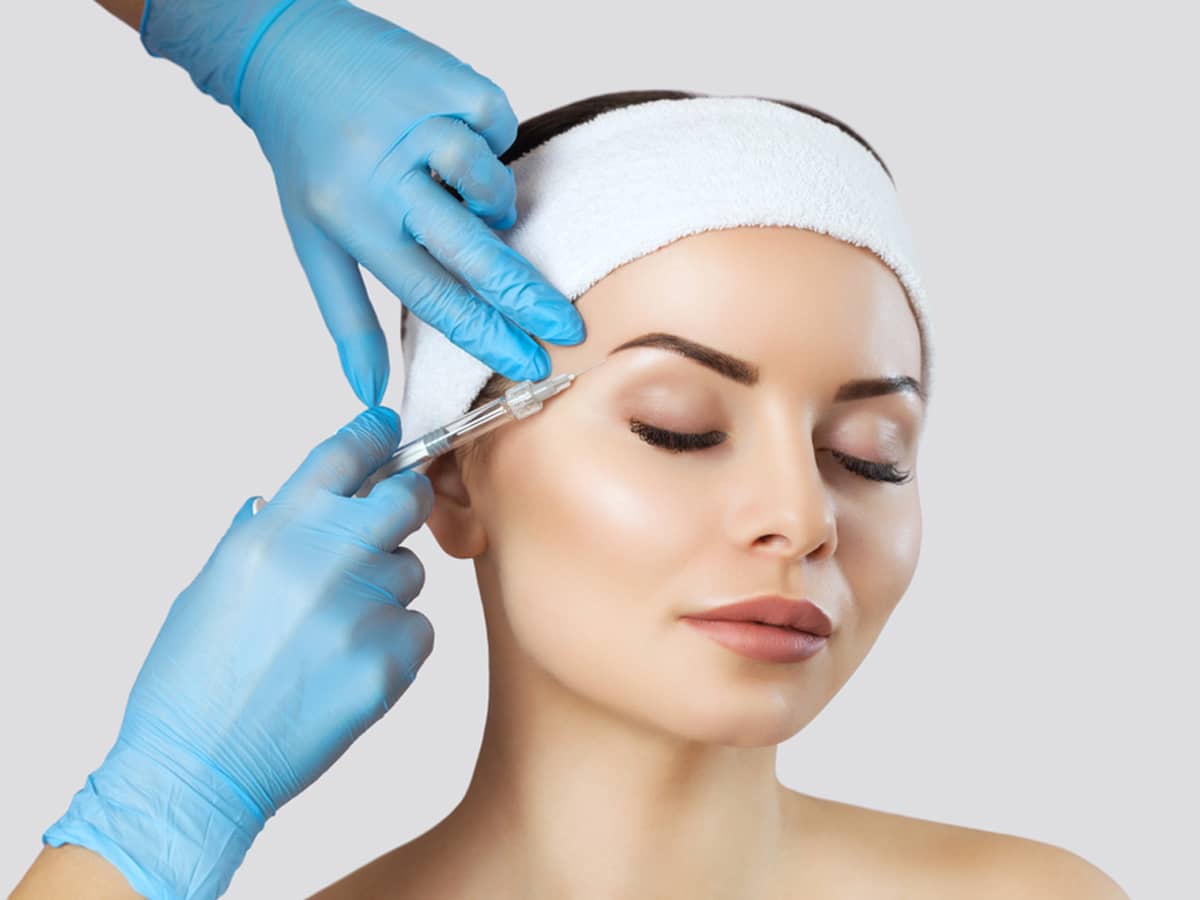 What Our Botox Los Angeles Patients Are Saying
Recovery after Botox
The recovery process following Botox injections is relatively straightforward. You may experience some injection site pain, redness or swelling as well as headache, nausea or flu-like symptoms for several hours after the procedure. However, this should all subside within a day or two. It's important to follow your plastic surgeon's instructions and take any medications that are prescribed to reduce discomfort and swelling. Additionally, you'll want to avoid any strenuous activity for 24 hours after the treatment and also avoid touching or rubbing your face until all redness has subsided.
In terms of beauty goals, it's important to note that Botox results vary based on individual muscle activity and skin type. Generally speaking, you can expect to see some improvement in the appearance of wrinkles over the course of several days post-injection with full results typically visible within two weeks. Results can last anywhere from 3-4 months so you may need periodic touch-ups in order to maintain your desired look.
When it comes to effective treatments for wrinkles around the eyes, Botox is a great option if you're looking for a non-invasive solution that doesn't require surgery or downtime. Your plastic surgeon can help you decide which aesthetic products are best suited for your individual needs and beauty goals with minimal risk of side effects.
Why choose Dr. Swartout
FAQs about Botox Injections
How long will Botox last?
You can expect to see results within 2–4 weeks. Some people have reported lasting benefits of up to six months.
Is Botox safe?
Yes! Botox has been used safely by millions of people around the world for more than 10 years.
Does Botox Hurt?
Most people say no; in fact, some people even find it relaxing. There's really nothing painful about Botox.
What Are My Side Effects?
The most common side effect is temporary muscle weakness. Other side effects include:
– Redness
– Swelling
– Itching
– Bruising
– Headache
– Nausea
– Dizziness
– Fainting
– Do I Have
Some doctors charge for Botox by the area and some charge by the unit. What is the difference?
With Botox, the more units used, the more the effect will be on a particular patient. Therefore, for a more subtle result, less can be used, and it will cost less. A more dramatic result may require more Botox and will cost more. I believe the best results can be attained by customizing the approach for every patient and finding the appropriate amount to get the desired results. By charging by the unit, the patient will only pay for the effect requested.
Can Botox be used around the mouth?
Frequently patients request an improvement in the "purse string" or "Smoker's lines" around the mouth. Despite the name, these smile lines can be found even in non-smokers and can be caused by repeated use of the muscles around the mouth. Often the presence of these static wrinkles imparts a look of disapproval. A small amount of Botox can be used in this muscle to slightly soften these wrinkles. Thus, in the appropriate patient, it can significantly reduce these bothersome lines.
What others procedures can be done to improve my appearance?
Dr. Swartout offers its patients many different procedures to improve their appearance, as Rhinoplasty, Otoplasty or Reconstructive Surgery.
How much Botox do I need?
Botox works by temporally weakening the muscles it is injected into, so it basically depends on your anatomy and the desired effect. Some patients only need 15 units, while others require as much as 50 or more. For first-time patients, I like to err on the conservative side to avoid any side effects, but we can always add additional ones as needed.
What Botox office is near me?