Rhinoplasty is a cosmetic surgery procedure designed to reshape the facial features. It is commonly referred to as a "nose job" or "nasal surgery". Rhinoplasty is performed by plastic surgeons with extensive experience in this area of expertise, such as rhinoplasty specialists and rhinoplasty surgeons located in Beverly Hills, CA.
During rhinoplasty, the surgeon will reshape the nasal bones and cartilage to give the nose a more aesthetically pleasing shape. The goal of this surgery is to improve the size and shape of the nose while maintaining its natural proportion with other facial features. In some cases, rhinoplasty can correct breathing problems that may be caused by structural defects within the nose.
After undergoing rhinoplasty, patients typically experience swelling and discomfort, which usually resolve within a few weeks after surgery. During this recovery time, patients should avoid strenuous activities that may put pressure on their noses—such as heavy lifting or playing contact sports—to allow their noses sufficient time to heal properly.
At Beverly Hills-based offices of experienced rhinoplasty specialists, you can rest assured knowing you are receiving top-notch care from some of the best surgeons in the field. Our team has extensive experience performing rhinoplasty surgeries with excellent results consistently achieved for our patients. If you are considering nasal reshaping surgery, get in touch with us today so we can discuss your goals for treatment and answer any questions you may have about this procedure.
Benefits of Rhinoplasty
Rhinoplasty is a plastic surgery procedure that can provide patients with improved aesthetics and improved functionality. The benefits of rhinoplasty include improved social activities by providing patients with a more aesthetically pleasing nose that fits in proportion to their facial features. Additionally, when performed by an experienced surgeon, the rhinoplasty procedure offers a solution for functional issues such as nasal septum deviation and blockage of the nasal airway which can lead to difficulty breathing.
By improving the shape and size of the nose, rhinoplasty patients often experience relief from symptoms caused by nasal obstruction such as snoring or difficulty breathing through one nostril. To achieve these goals, an experienced surgeon will use specialized surgical techniques to precisely reshape the cartilage and bone of the nose. This level of expertise requires significant experience with rhinoplasty surgery, so patients should seek out a plastic surgeon with extensive experience performing this procedure.
At our offices located in Beverly Hills, CA we have extensive experience treating our rhinoplasty patients with excellent results consistently achieved. Our team of experienced surgeons understands how important it is for each patient's individual needs when performing this delicate procedure so you can rest assured knowing you are receiving top-notch care from some of the best surgeons in the area. If you are considering nasal reshaping surgery, get in touch with us today so we can discuss your goals for treatment and answer any questions you may have about this procedure.
Related procedures: Otoplasty, Corrective Nose Surgery.
Before & After Pictures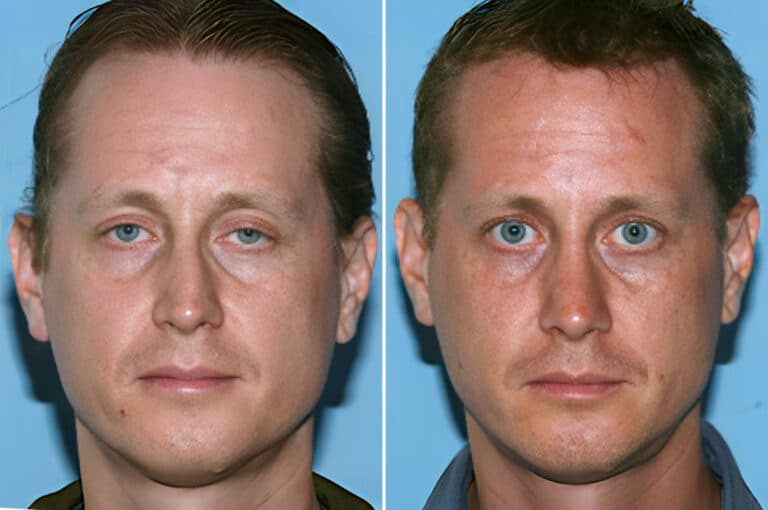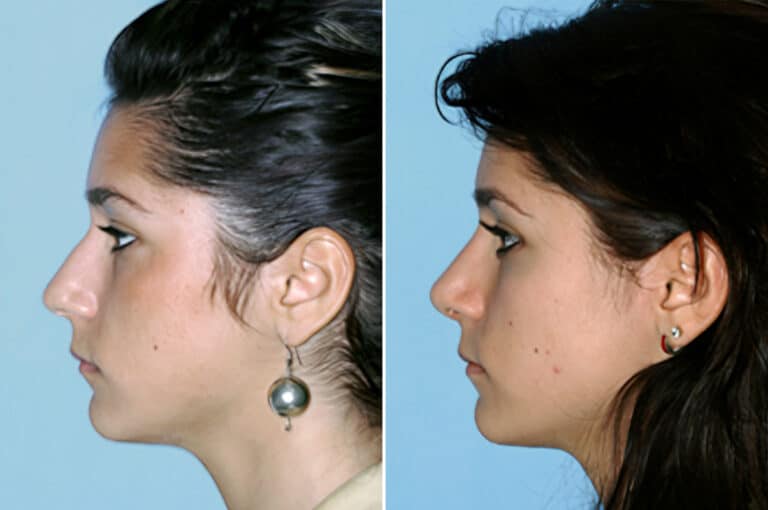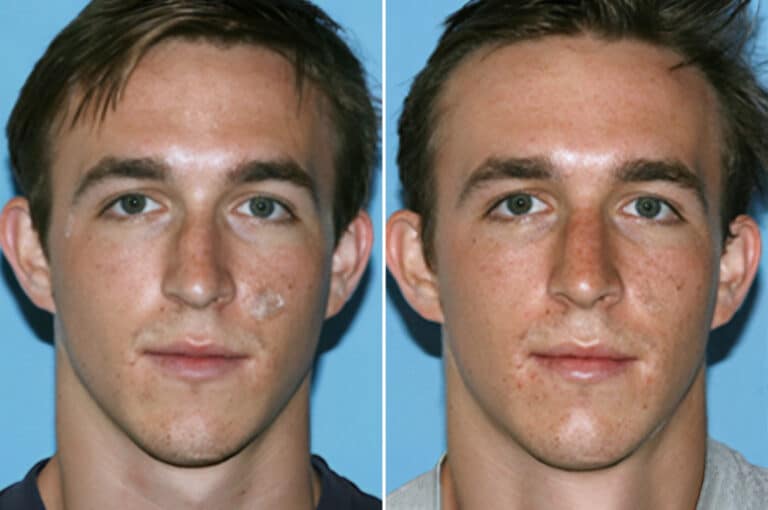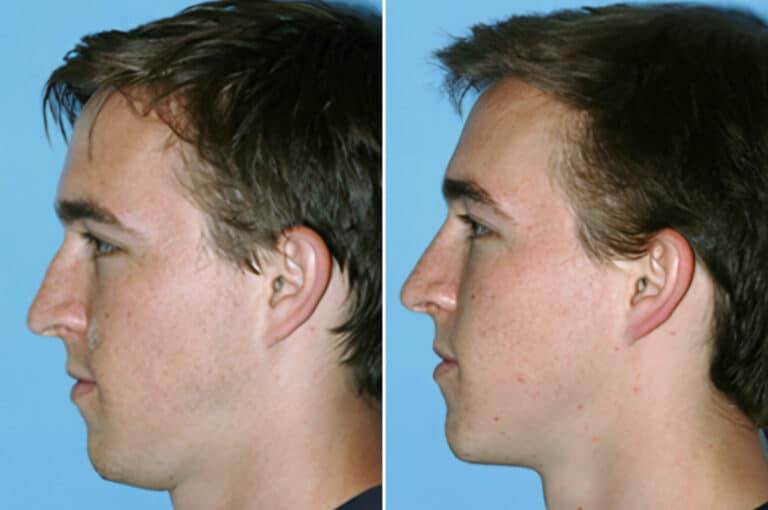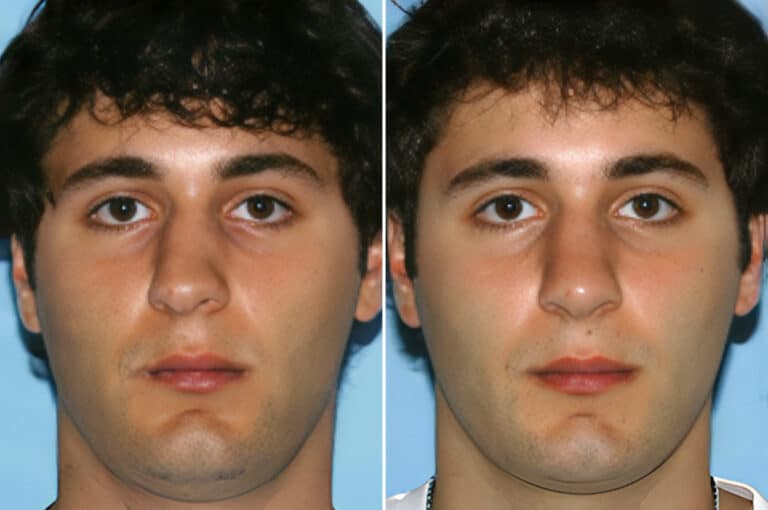 *Each patient is unique and individual results may vary.
How to Choose a Surgeon
When selecting a surgeon for rhinoplasty, it is important to ensure that you are choosing an experienced and well-qualified facial plastic surgeon. It is essential to carefully review the surgeon's credentials including training in cosmetic procedures and expertise in performing rhinoplasty surgeries. In addition to making sure the surgeon has the necessary qualifications, it is important to ask about their experience with rhinoplasty specifically. A consultation prior to surgery will allow you to discuss your goals for the procedure and make sure that you are both on the same page regarding expectations for treatment outcomes.
During a consultation, it is important to discuss the desired effects of rhinoplasty such as reshaping of the nasal bridge or nasal structure, correction of a broken nose or other issues affecting nose shape, and refinement of facial features. Additionally, your plastic surgeon can evaluate your facial structure and explain how they will achieve a more aesthetically pleasing and appealing nose.
It is also important to select a plastic surgeon who has extensive experience treating patients with similar issues as yours so that they can provide you with individualized treatment tailored towards achieving natural-looking results. When selecting a surgical team for rhinoplasty, be sure that all members have extensive experience performing this type of procedure so that you can rest assured knowing you are receiving top-notch care from some of the best surgeons in the area.
CONTACT US TODAY!
call our Beverly Hills office and we will be happy to help you.
Types of Nose Surgery Procedures
We offer a range of nose surgery procedures to meet each patient's individual needs. We specialize in ethnic rhinoplasty, which is an advanced type of rhinoplasty for patients who have thicker skin or a more distinctive nasal structure. Ethnic rhinoplasty requires specialized techniques and experience to ensure that results are natural-looking and aesthetically pleasing.
Functional rhinoplasty focuses on correcting structural deformities that impair a person's ability to breathe properly or lead to snoring. This type of procedure helps alleviate problems caused by nasal obstruction while also allowing for facial balance and symmetry when performed correctly.
In addition to these two main types of nose surgery, we also provide revision rhinoplasty for patients who have undergone previous procedures but are not pleased with the results. Our experienced surgeons use advanced techniques such as cartilage grafts and liquid rhinoplasty to refine areas that need more attention while still achieving natural-looking outcomes.
We understand the importance of each patient's individual needs when performing this delicate procedure, so we provide personalized care for every patient that comes into our offices in Beverly Hills and Los Angeles. If you would like more information about the types of nose surgery procedures we offer or would like to schedule a consultation today, please don't hesitate to get in touch with us!
What Our Patients Are Saying
Non-Surgical Nose Job Options
Non-surgical nose jobs are a popular and increasingly common alternative to traditional rhinoplasty surgery. Non-surgical nose jobs rely on injectables such as Botox, fillers, and fat transfer to reshape the nose without any incisions or downtime. This procedure is commonly used for those who want subtle correction of minor nasal bumps, crooked noses, or breathing issues.
At our practice, a consultation for rhinoplasty begins with discussing realistic expectations and goals. Our plastic surgeon will take into account the patient's facial structure and specific areas requiring treatment in order to determine if a non-surgical nose job is an appropriate option. If the patient is deemed a good candidate for this type of procedure, our doctor will give a detailed explanation of what can be achieved with injectables as well as associated risks and expected results.
The actual procedure typically takes under an hour and involves strategically injecting dermal fillers into certain areas of the face to create a more aesthetically pleasing shape. The process is minimally invasive so there is no need for anesthesia and patients can resume their normal activities right away without any downtime or significant side effects. Results from non-surgical nose jobs can last anywhere from six months to two years depending on the type of filler used.
Non-surgical nose jobs are ideal for those who don't want or need extensive nasal reshaping but still desire some refinement in order to achieve the perfect balance between their facial features. While these procedures offer excellent results that can be seen almost immediately, they do not offer permanent solutions like traditional rhinoplasty surgery does so it's essential to know exactly what you want before undergoing treatment.
Cost of a Nose Job in LA & Beverly Hills, CA
Rhinoplasty in Beverly Hills can cost anywhere from $7,500 to $12,000 depending on the complexity of the procedure and the patient's individual needs. At our practice, we strive to provide patients with a perfect nose that is both aesthetically pleasing and functional. Our experienced plastic surgeons will work with you to create a personalized treatment plan that fits your budget so you can achieve beautiful results without breaking the bank.
The Procedure: What to Expect During and After Surgery
Rhinoplasty, commonly known as a nose job, is a surgical procedure used to reshape the nasal structure and enhance the overall facial appearance of the patient. Rhinoplasty candidates may want to reduce the size of their nose or remove a dorsal hump that detracts from their aesthetic goals. The goal of rhinoplasty is to create an ideal nose shape and size while improving nasal breathing without compromising its aesthetic feature.
The procedure begins with creating incisions for access to the underlying soft tissue and nasal cartilage in order to reshape them into a more desirable structure. Depending on the individual needs of each patient, our qualified surgeon can modify both bone and cartilage structures in order to achieve desired results. In some cases, this might involve reducing the size of the nose by removing excess tissue or correcting any asymmetries caused by previous trauma or birth defects. In other cases, it might require increasing or enlarging certain parts of the nose in order to create better balance with other facial features.
Rhinoplasty can be performed under general anesthesia as an outpatient procedure depending on each patient's individual needs and preferences. Recovery time can vary but typically takes between one week and two weeks for patients who have undergone traditional rhinoplasty surgery. During recovery, patients are advised to avoid strenuous activities such as sports and heavy lifting in order to allow proper healing and best results from their surgery.
Why choose Dr. Swartout
Rhinoplasty FAQs
What are pain levels after rhinoplasty?
Pain levels following rhinoplasty are generally minimal. Usually, the first 24-72 hours are when patients feel the most pain. Typically, your nose will feel achy and tender with some congestion and sinus pressure. Your surgeon will give you a prescription for pain medication to relieve any discomfort directly following the procedure.
Be extra careful not to manipulate or bump your nose as it heals since this can affect your final results. Your nose may feel extra sensitive to the touch for up to three months after your procedure.
How soon can I show off my nose?
After about two weeks, your nose should have healed enough for you to take off any splits. At three months, swelling should have receded enough that you will begin to understand what your new nose looks like.
However, the final results might not be evident until about a year following your procedure. Most likely, only you will notice the subtle differences that occur after the three-month mark.
What is a safe age to consider nose surgery?
There is no ideal age for rhinoplasty surgery though it's recommended only after a patient's nose has stopped growing. Intervening too early can impact the nose's growth and affect the procedure's long-term results. Girls' noses typically stop growing around age 15-16, and boys' around 17-18.
Patients under 18 will need parental consent to undergo rhinoplasty in Los Angeles. It is important for teenage patients to be psychologically mature to undergo rhinoplasty.
What is the difference between open and closed nose surgery?
When Dr. Swartout uses the closed (endonasal) rhinoplasty approach, he hides the incisions inside the nose. This makes any scar tissue almost impossible to see.
With the open approach, there is a small incision along the columella (the skin between the nostrils) on the undersurface of the nose. When this heals, it is typically difficult to see. Prior to surgery, Dr. Swartout examines each patient's nose and discusses surgical goals to determine which technique will best suit each procedure.
Dr. Swartout may achieve certain areas of correction (like straightening the upper third of the nose or removing a hump) using the endonasal approach. Other corrections, such as straightening out the middle section of the nose (the soft, cartilage part) or improving a crooked tip, may require the open approach.
What rhinoplasty office is near me?
What is the septum?
The septum is the wall between the two nostrils that divides the nasal passages into a right and a left side. Some people have a crooked (or deviated) septum. This means that the twisted cartilage is taking up more space in the nose and preventing the passage of air, typically on one side.

If a septum is crooked and the patient has trouble breathing, a septoplasty can straighten it out. This improves air passage through the nose, allowing for easier nasal breathing.
Swartout Facial Plastic Surgery
Benjamin G. Swartout, M.D. of Swartout Facial Plastic Surgery is a board-certified Southern California facial plastics expert. After earning his undergraduate degree at Harvard University, Dr. Swartout completed his medical degree at Albert Einstein College of Medicine in New York. Dr. Swartout's practice dedicates all efforts to facial plastic surgery and non-surgical procedures to enhance the aesthetics of the face.
You can reach Swartout Facial Plastic Surgery for more information about rhinoplasty in Beverly Hills and the surrounding Los Angeles area. Schedule a consultation at (310) 861-7891.