Otoplasty Benefits: Achieving Symmetry and Confidence
Otoplasty in Beverly Hills, CA, expertly performed by Dr. Swartout, offers a transformative solution for those with prominent ears. It not only improves ear appearance but also enhances overall facial balance and boosts self-esteem.
01
Improved Ear Appearance
Corrects issues like protruding or asymmetrical ears, resulting in a more aesthetically pleasing look.
02
Enhanced Facial Harmony
By adjusting ear size and shape, Otoplasty contributes to a more balanced and symmetrical facial appearance.
03
Boosted Self-Confidence
The improved look of the ears can significantly enhance self-esteem, especially in social and professional settings.
Minimally Invasive Ear Reshaping Solutions
When the ears are large, protruding (lop ears), or asymmetrical, it can distract from the overall appearance of the face. For instance, In children, it can lead to unwanted attention, embarrassment, and ridicule from other kids.
There are minimally invasive techniques available for cosmetic ear surgery to reshape the ear using sutures buried under the skin. These stitches create permanent improvements in the shape and symmetry of prominent ears.
Dear Dr. Swartout. Thank you so much for all of your help, compassion, patience, and expertise! We are so grateful!
What Is Otoplasty Surgery?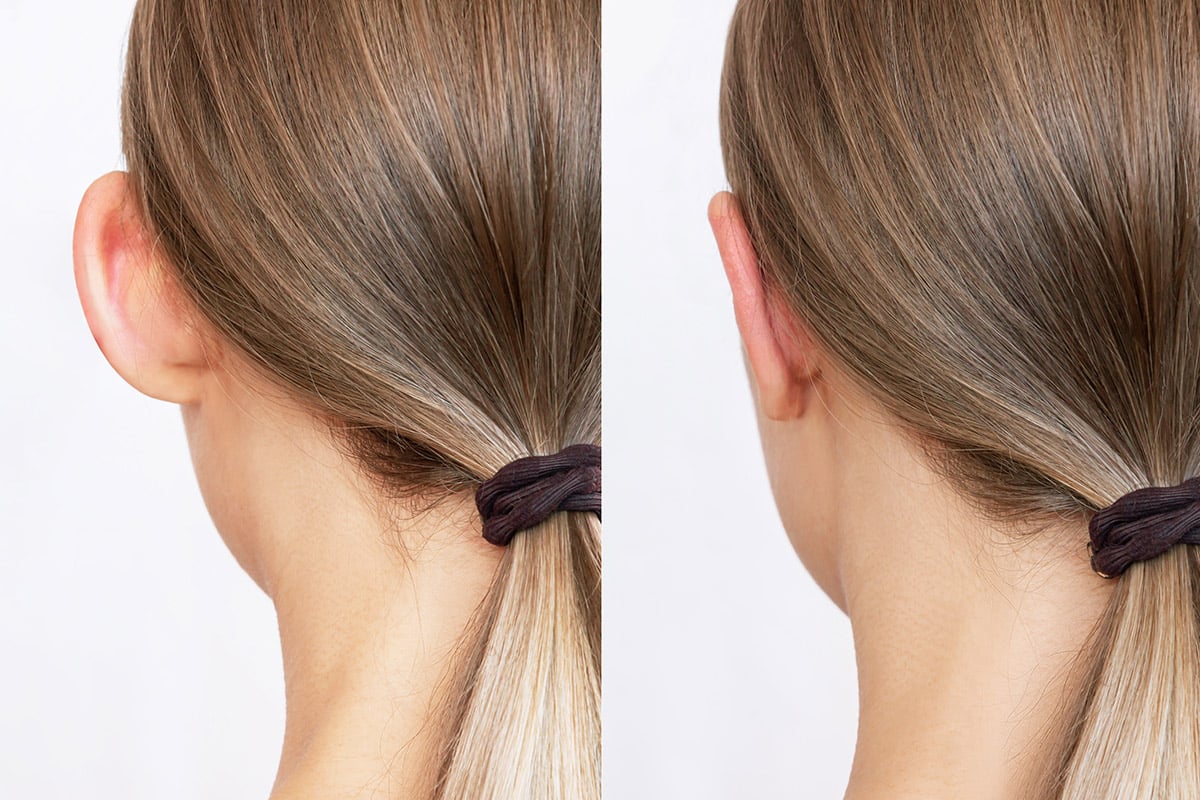 Cosmetic ear surgery, known as Otoplasty or Ear Pinning surgery, is a surgical procedure designed exclusively to alter the visual aspect of the ears.
It doesn't really change anything about your hearing, but it gives you some psychological benefits if you're teased about having big ears or if you've had an injury to one of them. An ear surgery procedure is usually done to bring outlier ears closer to the head so they don't stick out too far. The main purpose of the surgery is just to hide the ears by improving the natural folds.
CONTACT US TODAY!
call our Beverly Hills office and we will be happy to help you.
Best Candidates for Otoplasty Procedure?
An ideal candidate for an Otoplasty procedure is:
Over at least 5 years and under 66 years
The auricle reaches 90% of its adult size by the age of 5, making a child an ideal otoplasty candidate. Of course, you need to wait till the auricle of the ear fully develops before taking your child for the cosmetic procedure.
Similarly, adults under the age of 66 are good candidates due to the overall health factors. So if an adult under 66 can maintain good health, they automatically fall under an ideal candidate status.
Maintain Health and Wellness
Healthy lungs and heart go a long way and can help you earn a candidature spot for Otoplasty. These factors can help with anesthesia and speed up the recovery process.
Do Not Smoke
If you smoke, the best way to earn candidacy is to quit smoking and overall nicotine intake for six weeks before your procedure. Smoking can slow down the healing process, render anesthesia useless, and is an overall health hazard.
Consultation for Otoplasty in Beverly Hills
The first step when thinking about Otoplasty is scheduling an appointment with Dr. Swartout. During this appointment, our doctors will review your medical history, including any current medication or health condition you might be dealing with. We'll perform a physical exam of your ear to see what we can do to improve them and to ensure you will have a personalized experience. Before you make a decision, we'll review your expectations to ensure you're properly informed.
Otoplasty Procedure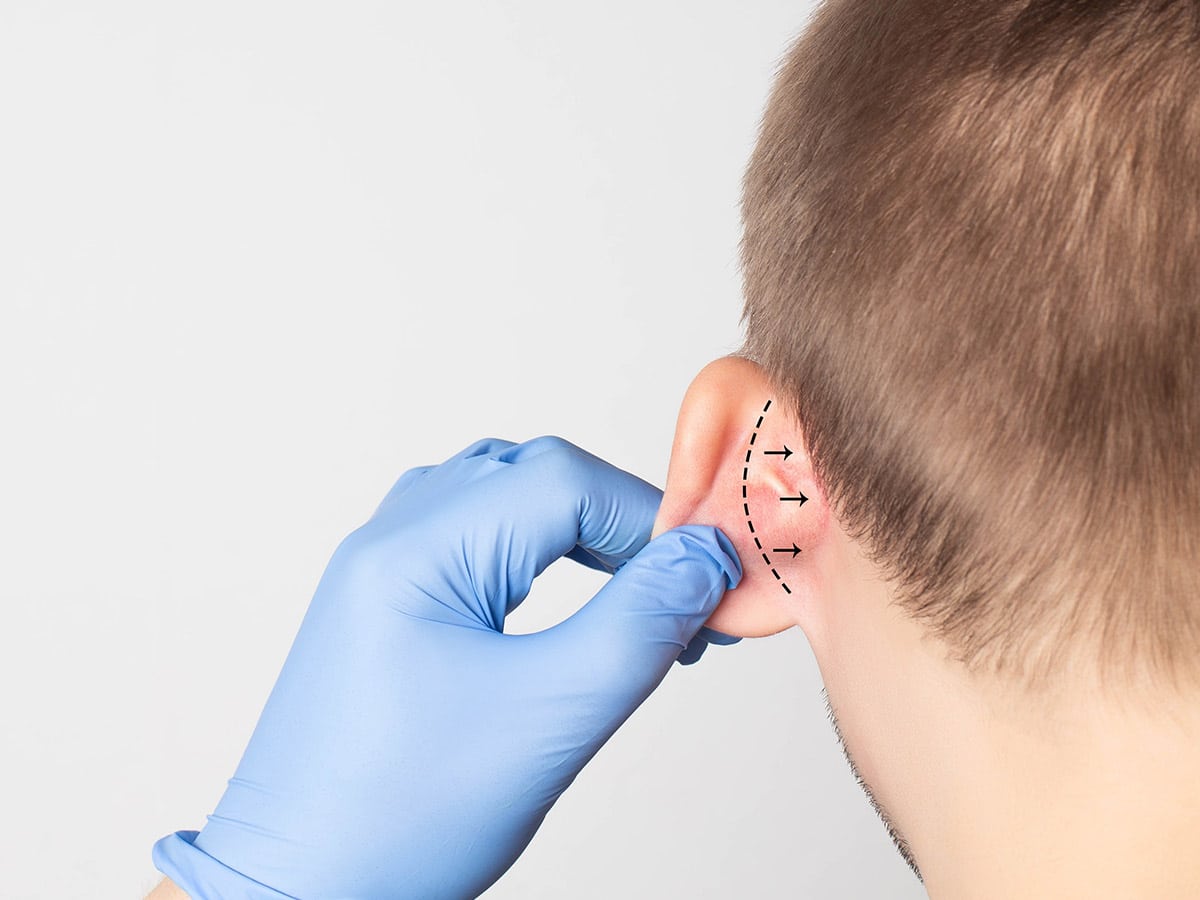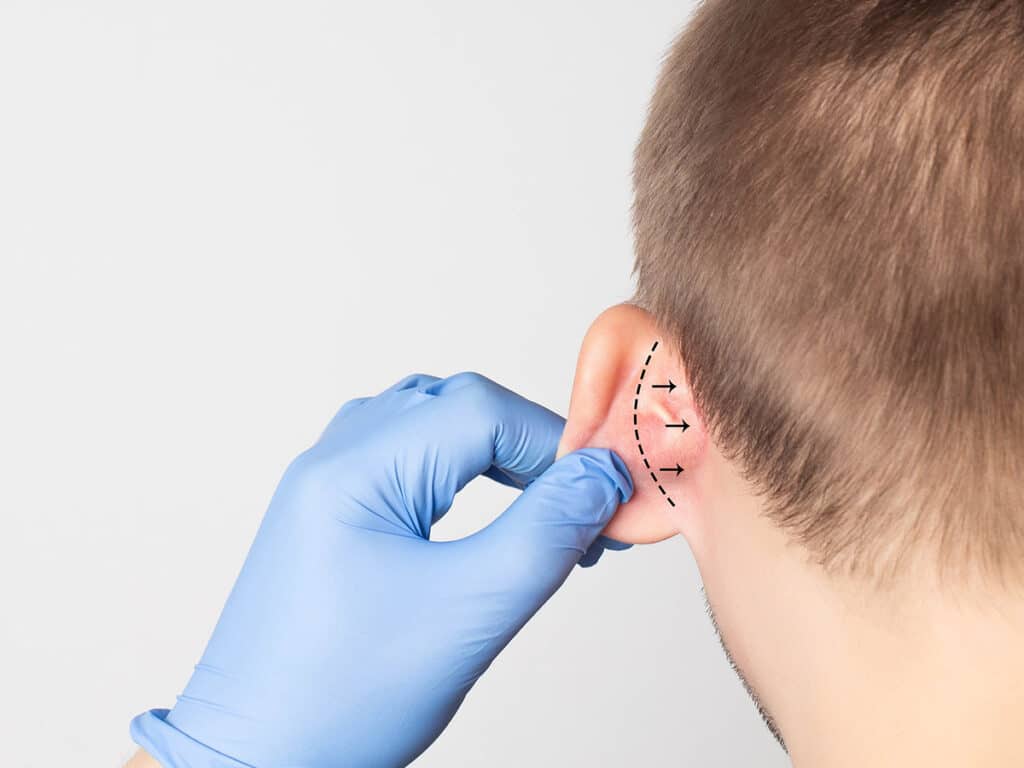 Otoplasty surgery can take about one hour to a maximum of three hours, depending on the patient's condition. General anesthesia and sedation are fitting for plastic surgery patients during these types of aesthetic procedures.
First, board-certified plastic surgeon Dr. Swartout makes an incision from the back of the back surface of the ear or the ear front. He then goes on to work with the ear tissue, reshaping the cartilage or removing it to place it within a more normal ear range.
After this, Dr. Swartout uses permanent external stitches to close up the incisions and makes sure to create the desired appearance. The results are immediate after your Otoplasty procedure.
Dr. Swartout hides the incision scars behind the ear or within the ear creases to ensure that they are not too visible after healing.
Risk and Side Otoplasty Effects
Just like any other cosmetic surgery, Otoplasty also comes with various benefits and certain risks.
Pros
Improves the overall appearance of the ear.
Adds self-confidence in children who face bullies due to their irregular ear shapes and sizes.
Makes ears more proportional to the face.
Cons
The scars can be permanent but will always be hidden behind the ears.
Otoplasty can temporarily change ear sensation.
To avoid further and more problematic side effects and additional risks, always consult with Dr. Swartout about your health and requirements.
Otoplasty Surgery Cost in Beverly Hills, CA
On average, Otoplasty can cost between $3,000 to $9,000, depending on the type of procedure you need. Several other factors, such as pre-surgery tests and post-surgery medication, add to the bill. These are usually discussed during the initial consultation.
Fortunately, you can stay assured with Dr. Swartout's professional Otoplasty surgeries to make your complications vanish at the right price.
Recovery from an otoplasty procedure
Make sure to always follow the care and recovery instructions given by Dr. Swartout after your ear reshaping surgery.
Keep Away from Extreme Heat
Keep your head away from heat and wetness post-surgery. Since you need to wear bandages for your ear, keeping your head dry and cool can help quicken the recovery process. The heat from the sun or hairstyling products can ruin surgical improvements.
Keep Your Head Up
Try to keep your head up to maintain blood flow during the first few weeks post-surgery. It can help keep swelling, inflation, and redness at bay. You can use some extra pillows to stack under your head to keep it upright.
Apply Prescribed Topical Ointments
If Dr. Swartout prescribes any topical pain medications, use them over the incision areas. They can work on scars and wounds over the incisions when applied regularly. Always keep your fingers clean when applying to reduce the risks of infections.
Do Not Rub Your Ears
Try to avoid touching your ears or wearing earphones or headbands when the dressing is still there. Touching your ears right after the surgery can make your ears feel more itchy, uncomfortable, and painful.
No Hair Washing for the First Week
Avoid shampooing your hair or using hair products for the first week of your recovery time as these have chemicals that can have detrimental effects on your incisions. If they have not healed enough, the wounds can feel itchy and uncomfortable.
Return to Work
After the first few weeks of recovery, you can return to your normal activities, but, take extra care when engaging in activities that involve contact with the ears. Wait at least two weeks after surgery before returning to any strenuous physical activity or swimming. During this time, follow all of Dr. Swartout's instructions for proper wound care and healing.
Benjamin G. Swartout, M.D
Facial Plastic Surgeon
Frequently Asked Questions About Otoplasty